I am so pleased to announce that the complete collected poetry works of Sibyl Croly Hanchett Schneller, Has All Been Said, is finally published and available at Amazon.com! (Click here!)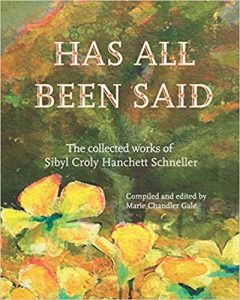 Sibyl's first published piece was a letter to Santa submitted to a local contest in 1893, for which she won first place in the class for children between 6 and 8 years old (she was 5 1/2). Her first poem followed at age 7, and by her late teens the notebook that was started as a "Baby Journal" by her father was filled with the poems and essays she wrote as a young woman.
During the course of her 96 years, she was a prolific writer of not only of poetry of all types, but essays, short stories, and even a novel. Her novel, Late Harvest, was published in 1937, and her two books of poetry, A Square Inch of Space and Mock Us Gently were published in 1975 and 1978 respectively. Many of her other poems were published in newspapers, magazines, and poetry competitions — but by no means all of them.
Luckily for us, she kept copies of most of her poems. This volume contains all of Sibyl's known poetry, including that which was previously published as well as all unpublished verse located so far. While we have no way of knowing if this is ALL the verse she wrote — and I rather think not — these 200 poems are a substantive cumulation of her poetical achievements. Reading them provides a lens to view nearly a century of life through her eyes.